The traditional Australia Day Ceremony & Breakfast by the Bay at Wagstaffe, presented by the Wagstaffe to Killcare Community Association in partnership with Gosford City Council, was again a great success. Over 600 happy people attended and, after the ceremony concluded, willing volunteers served up over 700 breakfasts.
The day commenced just after 8am when aboriginal artist, Kevin Duncan, presented a 'Welcome to Country' and the flags were raised by the Pretty Beach School captains for 2010. After the singing of the National Anthem and a 'Toast to Australia' led by MC Graeme Blundell, the crowd listened to addresses by the Mayor of Gosford, Chris Holstein as well as the Central Coast members of parliament and National Australia Day ambassador, Bruce Elder. The keynote speaker was Ms Anne Summers AO. Other special guests included Gosford Citizens of the Year for 2010, David & Christ Bidgood and several aboriginal elders from Walgett.
Interspersed between the addresses was entertainment provided by Ken Tough reading Banjo Paterson's 'In The Droving Days', Meg Toon singing and leading the crowd in 'The Drover's Dream' and 'Waltzing Matilda' and the Pretty Beach Preschoolers with 'Singasongalong'.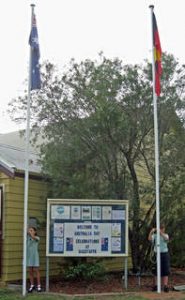 Image: Pretty Beach School captains, Siann McPhee and Cosmo Porter-Witt raising the Australian and Aboriginal flags.